The "must-haves" for Spanish and Portuguese cuisine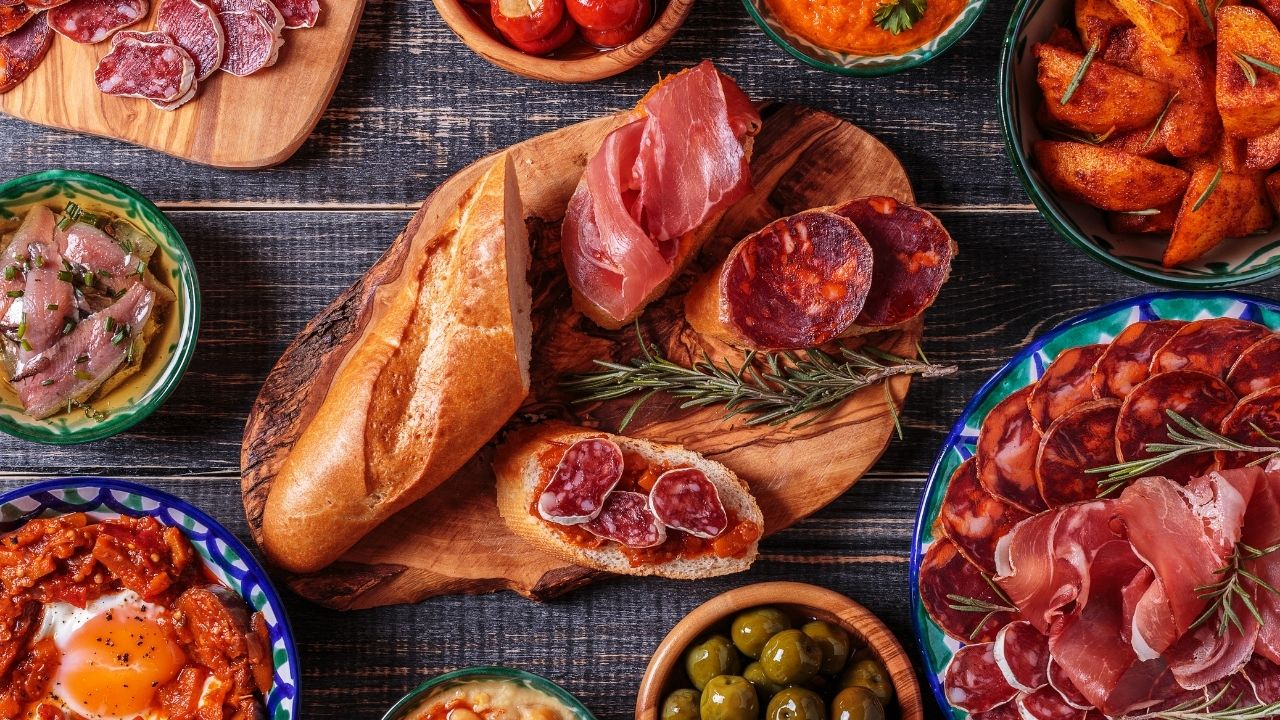 This time my blog post is for practical use: a compact guide to the most important products and spices in Spanish and Portuguese cuisine. So that the typical dishes of these countries will also turn out fabulously for you at home, and you can travel far and wide with your palate and sense of smell. With real saffron from La Mancha, pimentón paprika from Extremadura and some top-quality olive oils of different varieties, you are already on the right track!
6. Real saffron threads from La Mancha
The rich yellow threads of the violet crocus flowers cultivated on the central Spanish plateau of Castile-La Mancha, which also has a protected designation of origin D.O., are simply indispensable for rice dishes, above all the Levantine Paella Valenciana. But also, the typical Alicantine "Arròs a banda", drier, a little fried with the caramelised pan base "Socarrat", highly appreciated by gourmets, "Arròs caldoso" juicy-creamy with fish stock and at best with bogavante (lobster) or the "Arròs del senyoret" ("Gentleman's rice") with peeled and deveined shrimp, de-shelled mussels and other seafood, so that you don't make your hands dirty, absolutely need saffron. As does the Catalan pasta dish fideuá. One of my favourite dishes with saffron is the Catalan fish stew "suquet de peix", but fish and seafood soups ("crema de mariscos") also gain considerably in finesse with a little saffron. Be sure to try desserts with saffron, too: Rice pudding, panna cotta, crema catalana, crème brûlée or white mousse-au-chocolat, but also almond and fruit cakes harmonise wonderfully both taste-wise and visually. After all, "saffron makes the cake yellow", as a well-known German children's baking song goes. Incidentally, the name of the queen of spices is derived from the Arabic-Persian for "the yellow", and a Spanish proverb says quite rightly that one should "by no means economise" when cooking with saffron. Even though the noble spice was weighed in gold in the past and is still the most expensive in the world. One kilo of saffron requires 250,000 threads or 600 hours of work by the harvesters. In addition to genuine saffron threads from La Mancha, at Colono you will also find the ideal Paella "bomba" rice from the Ebro Delta, Paella sets from La Chinata and El Paeller and natural Spice mixes with saffron and Pimentón de la Vera. Lastly, I would like to mention a difference between Portuguese and Spanish cuisine that causes incomprehension: In Portugal, unlike in Spain, people eat fresh coriander often, which is also finely chopped and sprinkled over fish and seafood rice dishes. No one on the Spanish side of the Iberian Peninsula understands this, and certainly no Valencian paella purist!
5. Bacalhau: Stockfish in hundreds and hundreds of variations
No doubt, stockfish, salt-cured, air-dried cod, is Portugal's domain. They say there are more recipes than there are days in a year. There are certainly far more. Bacalhau dourado (à Bras), with straw potatoes, egg and black olives is a classic, as is Bacalhau com natas (with fried potatoes, layered and cream) likewise or even a rice with Bacalhau tongues - a fishy taste explosion. And last but not least, the deep-fried stockfish skin is crispy-delicious, also ideal for varying the different textures on the plate. In Spain, stockfish is the most important ingredient for the popular Lent dish Potaje de Vigilia (a soup with chickpeas and spinach), but also watered and cold sliced in Ensalada Malagueña with boiled potatoes, orange, hard-boiled egg and olives or the dough balls "Buñuelos de Bacalao", croquettes or deep-fried as "Pavías" in batter are classics on many menus and the dining tables of Spanish families. At Colono you will find a Spanish classic in the range that Pimientos de Piquillo rellenos de bacalao, red peppers stuffed with cod. And a fine one Cod spread with "piri-piri" chili.
4. Vegetable sofrito
It is the basis for many typical Spanish dishes, including paella: the Sofrito. Like the Italian "soffritto", it consists of roasted onions, carrots, tomatoes, parsley, possibly some celery and also garlic, which gives stews ("guisos") of all kinds the necessary flavour rounding. And Sofrito is also a must for the typical Galician dumplings, empanadas and mini dumplings, empanadillas (with tuna, egg, cooked ham for example). Cut and fry some diced aubergine, courgettes, and peppers with the sofrito and you have a "pisto". Add a fried or poached egg and you have an amazingly simple, healthy lunch or dinner. By the way, sofrito was first mentioned in writing in the Catalan "Llibre de Sent Soví", a medieval cookbook from 1324, as "sofregit". At that time without tomatoes, which only came to Europe after 1492.
3. Smoked "Pimentón de la Vera"
This is not just any paprika powder, but an incredibly special one. Because the one from Vera (Extremadura) is made from old pepper varieties that the first Spaniards brought back to the Old World from Latin America, which are gently smoked and dried over oak wood, as Carlos Olivo explained here in the Blog. Besides paella, the pimentón refines chorizo sausages, the octopus "Pulpo a la Gallega" with its boiled potatoes, and gives lentil-dishes or bean stew ("Fabada") that certain extra. But also sprinkled over a fried egg or on a ripe summer tomato, Pimentón de la Vera makes it a real treat! Depending on your taste, you can choose from sweet, bittersweetand sharp varieties.
2. You always need something to snack on: "Algo para picar" and "petiscos"
Neither in Spain nor in Portugal can a meal begin with anything other than a selection of snacks. Tapas or "Petiscos", as the Portuguese call them, are simply indispensable. Picos Artesanos- a kind of mini breadsticks, fresh bread, with serrano or Iberico cured ham (jamón or presunto, by the way, is available on both sides of the border as "ibérico"), Manchego or Alentejo cheese, paprika sausage Chorizo (Portuguese Chourizo), Fuet, Caña de Lomo, Patés and olives as well as olive oil. In Portugal, butter is always served as an aperitif here, which is rare in Spain. And before I forget, Sardine pate is also typically Portuguese, and especially spicy, a pleasure!
1. Green gold: olive oil
Unsurprisingly, the "number 1" and therefore the most important thing in Spanish and Portuguese cuisine is a selection of olive oils, cold-pressed and "extra virgin" for a wide variety of preparation methods (including frying, deep-frying, ...) but above all for cold Enjoyment. On the breakfast tostadas, tomato, avocado and leaf salads, cold gazpacho, ajoblanco or salmorejo soups or simply on a long-matured one Manchego cheese trickled. A fine, crispy (white) bread and that's all you really need. For the Aioli sauce and olive oil is also the main ingredient in Spain. In terms of olive varieties (more on this in detail at another time in my blog) "Arbequina" rather fruity-mild, Andalusia "Picual" on the other hand is strong, almost sharp, and scratches the throat similar to "Lucio". "Cornicabra" is, however, balanced in its bitterness and sometimes has subtle citrus notes. "Farga" (Castellón, Tarragona) represent the oldest olive trees in Spain, some of which were planted over 1000 years ago. The oldest olive tree in Spain is the "Farga del Arión" and is documented to have been planted in 314 AD near Ulldecona (Serra del Montsià, Tarragona).