Beef cheek in red wine and "Turrón de Jijona"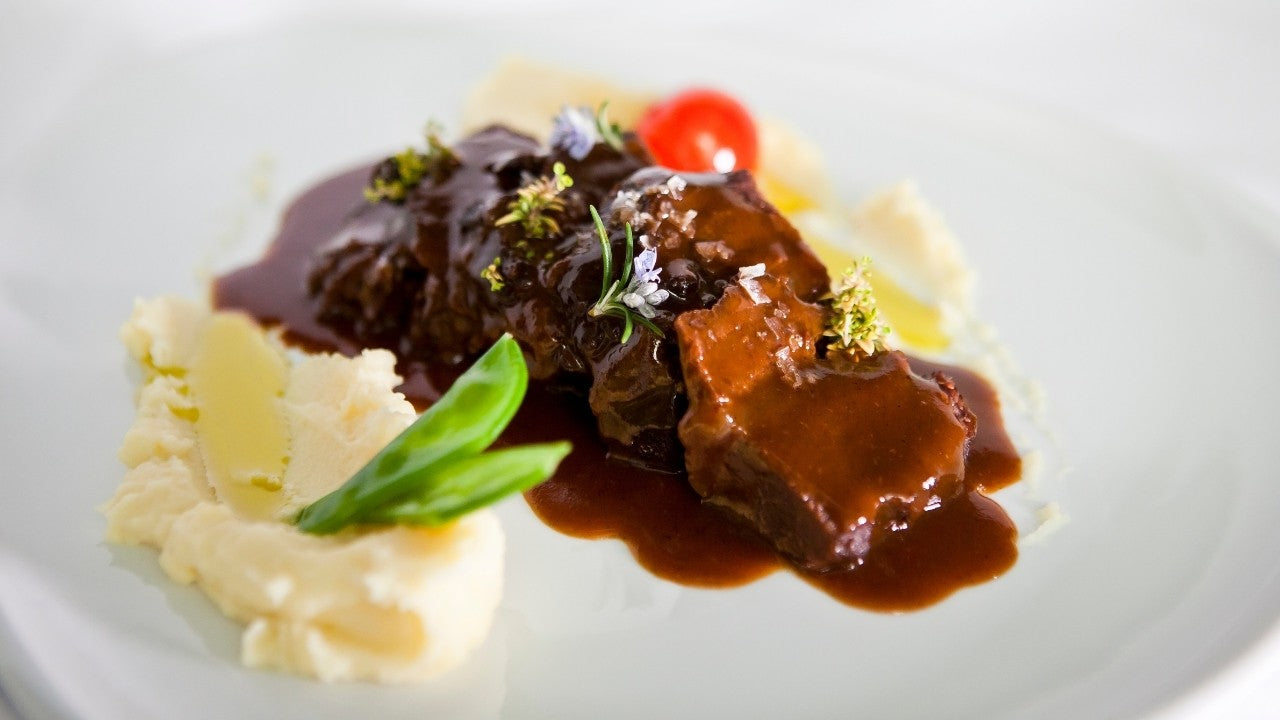 Cooking veal cheeks is very simple. It is a traditional and delicious dish, perfect for winter. In this recipe we share with you how to do it step by step with a very original touch so you can surprise your family this coming Christmas.
This recipe for Veal Cheeks cooked in Red Wine and Nougat from Jijona is a version created in our beloved restaurant El Hans and which was kept on the menu until its closing in 2019, so we have a special affection for it.
If you want to know more about Jijona nougat and other traditional sweets, you can read the article "close to almond heaven" that Jan Marot has writeen on his blog "Jan en Granada".
INGREDIENTS (for 4 people)
2 beef cheek

1 large onion
2 carrots
1 leek
450 ml meat broth
200 ml red wine
100 ml olive oil
Clove
Thyme
Laurel
Cinnamon
Black pepper
salt
BEEF CHEEK IN RED WINE AND "TURRÓN DE JIJONA" STEP BY STEP
We clean the beef cheek and remove the tissue that covers it. We add salt and black pepper.
We put a pan with a little olive oil and mark the cheeks until a caramelized crust is formed. We reserve them.
Add the onion, carrot and leek to a pot over medium heat with a little olive oil. When the vegetables are toasted, add the concentrated tomato and leave for a few minutes.
Add the red wine and deglaze for a few minutes. Add the veal cheeks and the meat stock to the saucepan until covered. We put the spices we chose: cloves, cinnamon, thyme, bay leaves ...
We cover the pot and cook over medium heat until the cheeks are soft. This usually takes an hour and a half to two hours. When the cheeks are tender, remove them and let the sauce reduce. We pass the sauce through a sieve.
We present the cheeks on a flat or deep plate, add the sauce and put a little crumbled Jijona nougat on the cheeks. We can accompany it with a good puree or a potato gratin.