9 Essential Spanish Products in your Pantry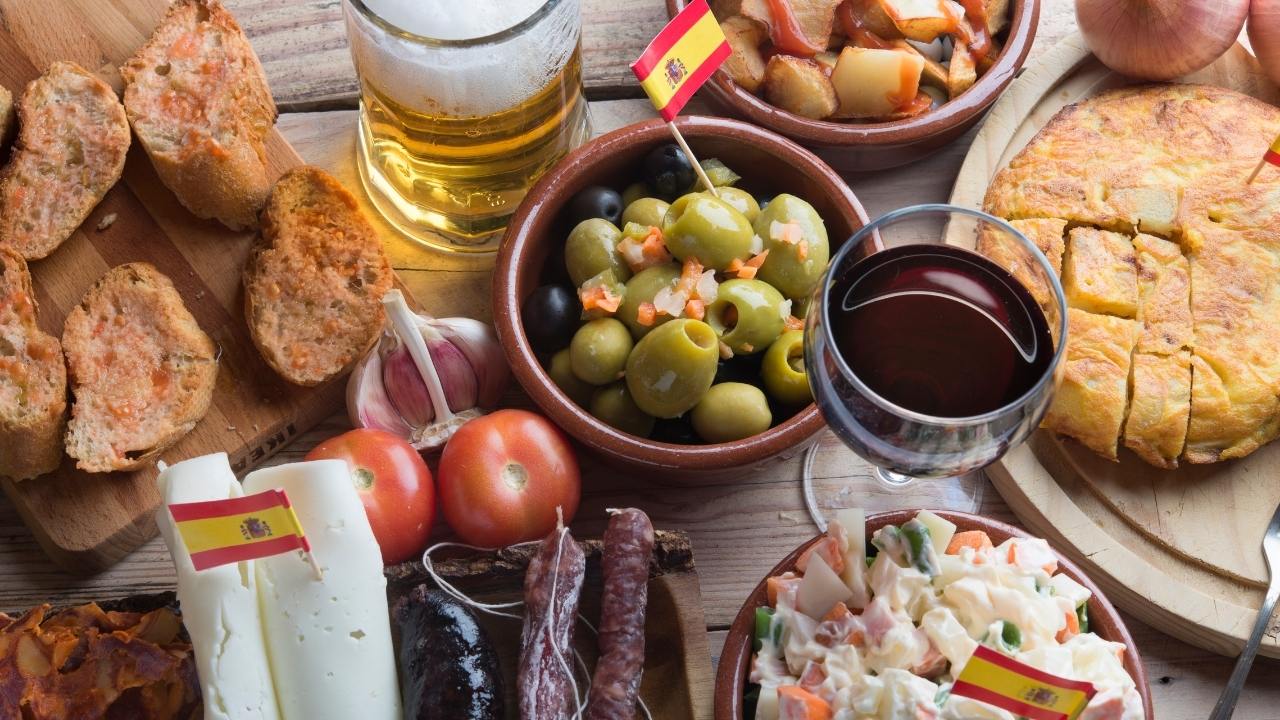 Spanish food varies according to region and season, but there are a number of ingredients - including spices and herbs - that appear again and again and which, for people who plan to cook Spanish recipes often, are worth having on hand.
They also largely overlap with the main ingredients in the pantry of Portuguese cuisine, so both styles of cooking can be enjoyed seamlessly: both cuisines feature plenty of seafood, simple preparations and inventive variations on staples.
1. Manzanilla olives
Olives are served daily in almost every bar in Spain and are a common ingredient in many recipes. Our favourite table olives are manzanilla olives. They are fleshy, tasty and crunchy and can be marinated in different ways. Manzanilla olives are a must for any appetizer or tapas. Try the typical olives stuffed with anchovies or marinated with spices such as garlic and paprika. You can also use them to make delicious gildas.
2. Bomba rice
Rice is the most important ingredient in dishes such as paellas, black rice or arroz caldoso (rice with broth). And there is no better possible rice for these recipes than bomba rice.
Bomba rice is a short-grain, round rice from Valencia. This rice is capable of absorbing up to twice as much broth as other types of rice without breaking down, resulting in a much tastier rice.
3. Sardines and sardinillas
The canned sardines and sardinillas that are produced along the coast of Spain and Portugal are a fundamental product in the economy of many families.
These preserves are a very versatile foodstuff. They can be used to prepare fresh dishes such as salads, toasts or tapas and can also be eaten straight from the can. They are made in an artisan way with sardines selected at their optimum point of maturity and are accompanied by other 100% healthy products such as olive oil, lemon, tomato or chilli.
Buy canned sardines and sardinillas >>
4. Pimentón de la Vera paprika
Paprika de la Vera, made from sweet or hot red peppers that are dried, smoked and ground to a fine powder, is commonly used in Spanish cuisine.
In any Spanish pantry you will find paprika de la Vera in its sweet or spicy version, as it is used to flavour and give colour to such famous dishes as paella, pil pil prawns or stews of all kinds.
5. Serrano ham
There are many types of Spanish ham, depending on the breed of pig (Duroc or Iberian), the production regions and the curing time. But if there is one ham that Spanish families eat almost every day, it is Serrano ham.
Serrano ham is the Spanish cured ham with the best quality/price ratio and is used both in tapas or cold meat platters together with chorizo, salchichón or lomo and in other typical recipes such as huevos rotos, flamenquín from Cordoba or cachopo from Asturias.
6. Sofrito of vegetables
Sofrito is one of the mainstays of Spanish cuisine. Sofrito is a kind of ratatouille of vegetables that is used to make many recipes: paellas and rice dishes of all kinds or stews such as fabada asturiana, cocido madrileño and lentils with chorizo.
You can learn how to make vegetable sofrito on our blog or buy a ready-made organic sofrito in our online shop.
7. Manchego cheese
Spain is full of a wide range of regional cheeses. From fresh and soft to cured and hard, and from cow's to goat's and sheep's cheeses. Sometimes it is used as an ingredient, but the main role of cheese in Spain is to be cut and eaten as is or used to make tapas.
And if there is a beloved cheese in Spain, it is Manchego cheese. Made from pure sheep's milk, it has an intense but elegant flavour that is almost addictive. The intensity of the flavour depends on the curing time, and you can find semi-cured, cured and aged Manchego cheeses.
8. Alioli, salsa brava and romesco sauce
Spaniards love to eat with bread and this is for no other reason than the great variety of sauces in their gastronomy, and there is nothing better than a good white bread spread with a delicious sauce.
If we had to choose just a few of the Spanish sauces that we think you should have in your pantry, they would be aioli, salsa brava and romesco sauce. All three can be used to accompany all kinds of meats, vegetables and fish and give joy and flavour to all kinds of recipes.
9. Cantabrian anchovies
Cantabrian anchovies are famous all over the world. They are made in northern Spain from anchovies or anchovies caught in the Atlantic at optimum maturity, which are cleaned, salted and filleted by hand.
They are semi-preserved, which means that they have a more limited expiry date than other canned fish, and must be kept cold.
It is difficult to find a more umami flavour than that of Cantabrian anchovies, and they are usually eaten on their own, simply accompanied with a drizzle of extra virgin olive oil or as an ingredient in more elaborate tapas and pintxos.